Chametz is only $39.95 $34.95 and Yiddishe Kop is only $19.95 $14.95 (FREE SHIPPING). Act now! Great games for the whole family.

Both games were recently honored with Toy Awards from Creative Child.

Chametz: the Search is On
Only $34.95 + FREE shipping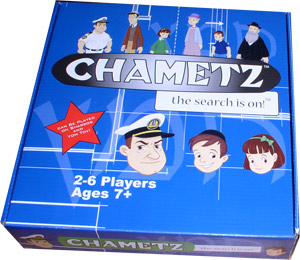 Read more about Chametz...
or
$39.95 $34.95
Chametz: The Search is On!
I bought chametz two years ago and played it with the grandkids for pesach then. They were a little too young to understand how to play, but their parents enjoyed it. This year they are 11, 9, & 7 and they were able to play by themselves & enjoyed it!
Joyce W., Trenton, NJ
I play tested the game with my children ages 4 to 19, and they kept asking to play more. This game would make a great gift or afikomen ransom.
--Philadelphia Jewish Voice
As I unpacked the pieces, I laughed out loud at the cleverness... [and] So considerate of Sabbath observant players! ... (no muktzah at all)... It's fun! 'nuff said. Rating: 5 of 5. My first perfect toy rating!
Ann D. Koffsky - Author/Illustrator
By using the process of elimination, players race to find the chametz, the room, and the culprit before Passover begins! Question spaces offer Easy, Medium and Difficult versions of each Passover questions that make Jewish learning fun! 2-6 players, ages 7 to adult.
Yiddishe Kop: Jewish Brain Teasers
Only $14.95 + FREE shipping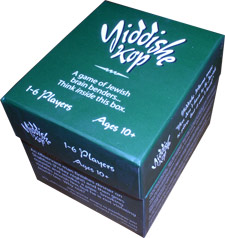 Read more about Yiddishe Kop...
or
$19.95 $14.95
Yiddishe Kop
The lateral thinking card game with a Jewish bent. This updated version of "20 questions" will force you to see the world from a whole new perspective. "Think
inside
this box."1-6 players, ages 10 to adult.
---
EXPRESS SHIPPING.
Free shipping is 5-7 days. Need it sooner? Use the button below to receive Yiddishe Kop in two days for $10 extra (your total cost is $24.95). Please allow one day for processing. If you have special requests or concerns, please call us 310-435-4972 or email sales @ hazakah.com
These games make terrific Bar/Bat Mitzvah gifts. Plus, they're perfect for schools and Jewish libraries and anybody who likes to have fun while they're learning about Judaism! Why are you reading this? Order your copy already!