: BOARD GAMES :
Click above to watch the Video!
Chametz: The Search is On!
Only $34.95 plus FREE SHIPPING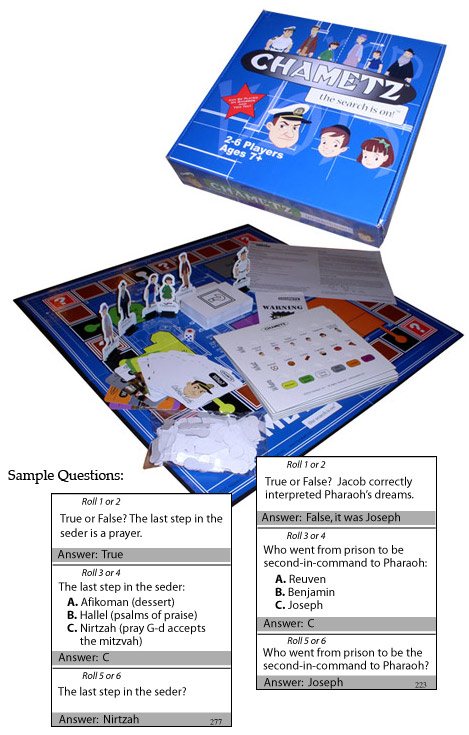 Chametz: The Search is On
has a simple premise: It's two weeks before Passover and Colonel Moti invites Rabbi Greenberg to his home to give a Pesach shiur (lecture). The colonel serves snacks which are kosher, of course, but not kosher for Passover. Uh-oh! A member of the congregation leaves an item of chametz somewhere in the house. Who is the culprit? What type of chametz? In which room? Fortunately, the gameboard is the blueprint of Colonel Moti's home.
By searching the house, answering questions from the shiur, accumulating clues, and paying close attention, the players help the colonel clean his house in time for Passover! Recommended for 2 to 6 players aged 7 to adult. Game includes 6 pawns, 6 note boards (does NOT require pen or pencil), 18 custom playing cards, 234 questions on 78 question cards, one die, one gameboard, one chametz envelope, and instructions. A typical game start-to-finish takes approx. 30 minutes.
Chametz the Game... Kosher for Passover and All Year Round!